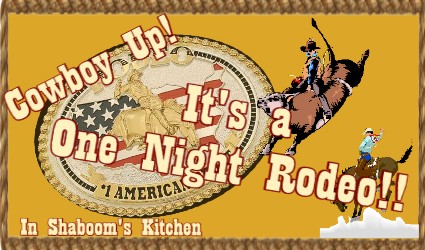 Come go with me---back to my teens when February Rodeo Week in Tucson, called "La Fiesta de los Vaqueros" was a really big deal with a huge parade through downtown and a whole week full of bronc-bustin' bull-ridin' calf-ropin' flag-wavin' guys and gals filling up every night at the Fairgrounds.
"La Fiesta de Los Vaqueros" - Here's the Banner that leads the Parade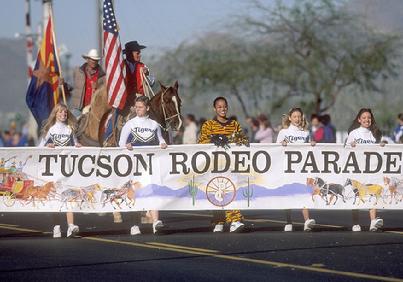 For all you young whippersnappers too young to even know it ever existed, the music your hear is the theme from the old TV series "Rawhide".
Awright, Pardner...Now--you ain't got any Western gear on, you're gonna land in the Hoosegow! So get them boots, that Stetson, some butt-tight jeans, yore snazzy cowboy shirt and string tie---and laugh and point at them stuffed shirts inside the Hoosegow! Hey, they gotta find some cowboy duds and pay to get out!! And yes, the Hoosegow is in the Parade---at the end!
Now it's time to yank down that pickemup tailgate, fire up that grill, pour a libation, spread out all them cowboy goodies... and enjoy the Rodeo!
BAREBACK RIDERS' BLOODY BULL

Boy, this'll fix up yore that hitch in yore giddyup!!
Serves: 4
2 cups spicy V-8 Juice or other spicy tomato juice
1 cup extra-strengh canned beef broth
3/4 cup vodka
1/4 cup Worcestershire sauce
1 teaspoon garlic powder
Dash or a few dashes Tabasco Sauce to taste
4 chilled 12-ounce glasses
Seasoned salt for rims of glasses
4 cups ice cubes
4 lime wedges
4 celery stalks
Mix vegetable juice, beef broth, vodka, Worcesterchire sauce, garlic powder and Tabasco sauce in a 4-cup measuring cup. Dip rims of glasses into seasoned salt. Divide ice cubes among the glasses. Squeeze lime into each glass. Pour juice mixture over ice cubes and stir to blend. Garnish each with lime wedge and celery and serve.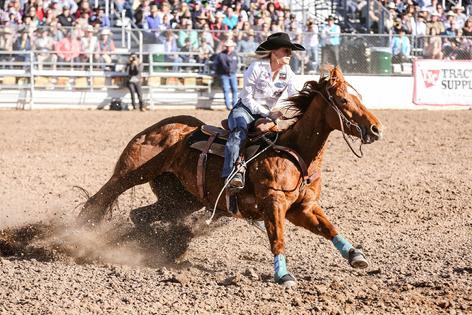 That's me! Yah, right!!




CALF ROPERS' SPICY GRILLED QUESADILLAS

These'll just getcha started. If ya use really hot sauce, yore gonna need a little Lone Star or Lucky Lager (or whatever) to cool ya off!
Serves 4
8 flour tortillas (8-inch)
2 cups shredded Cheddar cheese (8 oz.)
1 16-oz. jar hot chunky salsa (I use Pace--Hot, natch!)
1 cup diced cooked rare steak or chicken
4 green onions, chopped
Vegetable oil
Garnishes as desired

Put 4 of the tortillas on a work surface. Top each with 1/2 cup cheese, 1/4 cup salsa, 1/4 cup of the meat, and 2 tablespoons of the green onions. Top with remaining 4 tortillas.

Brush tops of the quesadillas with oil. place the quesadillas oiled-side down on a grill rack over medium coals. Grill about 3 minutes. Brush the tops of the quesadillas with oil and turn them over. Grill about 2 minutes more or until lightly browned. Let the quesadillas stand about 2 minutes. Cut into wedges and serve with remaining salsa and garnishes as desired.
BRONC BUSTERS' BIG BOWL O' TEXAS RED

Ain't nuthin' like a big bowl o' red! And ain't no beans in real Texas Chili either!! But o' course, ya could serve 'em on the side.
Serves 6
2 tablespoons lard or bacon drippings
1 large onion -- coarsely chopped
3 cloves garlic -- chopped
Kosher salt and fresh ground black pepper
3 pounds beef chuck, coarse chili grind
4 tablespoons pure hot red chile powder (New Mexico)
4 tablespoons pure mild red chile powder (Ancho)
2 teaspoons ground Cumin
1 teaspoon dried Mexican oregano
1 bottle (12 oz.) beer (Corona or Lone Star is best) - at room temperature
1-1/2 cups water
3 cups Water
1 1/2 teaspoons Salt
2 tablespoons masa harina

In a large heavy pot, saute onion and garlic, sprinkles with a little salt and pepper to bring out the flavor, in fat until translucent. In a large bowl, combine the meat and chile powders; add to onion mixture and cook until no longer pink, stirring frequently. Stir in beer and water; add about 1 teaspoon more salt, and bring to a boil.

Lower heat and simmer uncovered 2 1/2 to 3 hours, stirring occasionally, adding more beer or water if needed. Add masa harina, adjust seasonings, and simmer about 30 minutes longer. Serve immediately.
BARREL RACERS' GRILLED CITRUS CHICKEN
WITH BLACK BEAN SALSA

Now that the grill is hot, put these babies on there--just don't cook 'em to death!
MARINADE: 2 tablespoons fresh lemon juice
2 tablespoons extra virgin olive oil
3 tablespoons chopped fresh cilantro leaves
2 cloves garlic, minced
1/2 teaspoon red pepper flakes
4 skinless boneless chicken breast halves

1 tablespoon additional fresh lemon juice
3 tablespoons additional chopped fresh cilantro leaves
1 jar (16 oz.) hot chunky salsa (I use Pace Chipotle Salsa)
1 can (15 oz.) black beans, rinsed and drained
Fresh cilantro leaves for garnish

Marinate the chicken: In a gallon-size ZipLoc bag or large non-metallic bowl, combine all the marinade ingredients. Add the chicken and turn to coat it all well. Seal or cover and refrigerate up to 1 hour (while you're heating the grill to medium). In a medium bowl, combine the additional lemon juice and cilantro with the salsa and beans. Mix well and set aside.

Remove chicken from marinade and discard marinade. Grill chicken 5 minutes per side or until chicken is cooked through. Serve the chicken with the salsa mixture.
BULLRIDERS' TIJUANA T-BONES

Still got that grill a-goin'? Then let's get to the main attrraction! Ridin' them bulls shore does work up a big appetite, and these oughta fill the bill!
Serves 4

1 cup hot chunky salsa (preferably Pace)
2 teaspoons ground cumin
4 large angus beef T-bone steaks, about 3/4" to 1" thick
Kosher salt and fresh ground pepper

In a large ZipLoc bag or large non-metallic bowl, combine 1 cup of the salsa and 2 teaspoons of the cumin. Add the steaks and turn them to coat well. Seal or cover tightly and refrigerate 1-3 hours, turning them occasionally while marinating. Meanwhile, heat the grill to medium.

Remove steaks from marinade, discarding the remaining marinade. Season lightly with salt and pepper. Grill steaks 7-8 minutes per side for medium-rare, or to desired doneness. Serve with desired garnishes and accompaniments.
STEER WRESTLERS' CHEDDAR VEGETABLE POUCHES

Yah, even cowboys gotta have their veggies. Now, if yer still a-cravin' some "hot", then throw a few chiles in aklong with the veggies!
Serves 6

1 can (10-3/4 oz.) condensed Cheddar Cheese Soup
1/4 cup milk
1/2 teaspoon garlic powder
1/4 teaspoon onion powder
4 cups frozen steak fries
4 cups frozen vegetables, such as broccoli, carrots, onions, etc.
Pinch each of kosher salt, fresh ground pepper and paprika

Cut 4 rectangles of heavy-duty foil, approximately 14" x 20", and spread on a flat surface.

In a large bowl, combine soup, milk garlic powder and onion powder. Stir in potatoes and vegetables and coat them well. Divide vegetable mixture between foil rectangles. Sprinkle sith salt, pepper and paprika. Bring up foil sides and double-fold tops to seal packets, leaving room for heat circulation inside.

Grill packets over medium coats for 25 minutes or until vegetables are cooked.
CHILI-SPICED TEXAS TOAST HUNKS

Throw some slices o' this on yer plate---now you got a meal!
2-4 large slice of frozen Texas Toast per person
Butter
Ground Ancho chile powder
Garlic powder

Slather both sides of toast with butter. Sprinkle one side of each piece with the chile powder and garlic powder to taste. Grill over medium heat 2-3 minutes. Turn, sprinkle the other side with chile powder and garlic powder, and grill an additional 2 minutes. Serve immediately.
LIME 'N CHILE CERVEZA

Oh yeah, cool off that tongue a li'l bit. If yer not into beer (if you don't know, that's cerveza in Spanish), then Pepsi or Coke should do it.

Frosted beer glass or mugs
1 wedge of lime for each glass
1/2 seeded jalapeno chile (cut lengthwise) for each glass Dos Equis or Corona beer

Gently run the lime wege around the rime of each glass, squeeze the lime lightly and drop into the glass. Repeat the procedure with the chile. Pour beer over and serve.
o

TEXAS SHEET CAKE

This is just plain ole "yummm"!!
Recipe from the "Recipe Source" Web Site
Yields approximately 24 pieces

CAKE:
2 cups all-purpose flour
2 cups sugar
1 teaspoon baking soda
1/4 teaspoon salt
1 cup margarine (2 sticks)
4 tablespoons cocoa (generous)
1 cup water
1/2 cup buttermilk
2 eggs -- beaten to blend
FROSTING:
1/2 cup margarine
4 tablespoons cocoa (generous)
6 tablespoons buttermilk
1 pound powdered sugar
1 teaspoon vanilla extract
Pinch salt
1 cup chopped pecans

CAKE: In a mixing bowl, mix sugar, flour and soda together. In a saucepan, melt margarine; stir in cocoa and water and bring to a boil. Pour hot mixture over dry ingredients; stir well. Mix in buttermilk, eggs and salt. Pour into a greased jelly roll pan. Bake at 400 degrees F. for about 15 minutes, until top springs back when touched.

FROSTING: In same saucepan used for cake, melt margarine. Stir in cocoa and buttermilk and bring to a rapid boil. Remove from heat and stir in the sugar and vanilla; blend thoroughly. Stir in nuts. Spread over cake as soon as it comes out of the oven. Be prepared to clean up some drips.

If there are kids around, let them clean up the drips - this frosting is like fudge! The frosting is so good - it's almost like the cake exists just to give a base to the frosting. Mom cuts the frosting recipe down (about in half) but I like it just the way it is - lots.

CLICK HERE TO GO TO THE RODEO! LOTSA PICS!!

PAGES UPDATED EVERY MONTH
[Everything For "Chileheads"] [Help and Recipes for Smokin' & Grillin']
[Fun and Recipes at The Whistle Stop Cafe]
[Recipes From Around The World in The International Connection]

MENUS FOR HOLIDAYS AND YOUR SPECIAL OCCASIONS ALL YEAR LONG
[All My Special Menu Lists For All Year]
RECIPES CONTRIBUTED BY KITCHEN ROUND TABLE MEMBERS
[My current List of Members' Favorite Recipes]
"EVERYDAY STUFF" TO COOK
[Burger Bonanza] [Cucina al Italia] Shaboom's [Pizza Parlor] [My 3 Pines House Specialties]
[The Bread Box] [Recipe Archives]
IF YOU NEED HELP, GO HERE
[Go Food Shopping] [My Kitchen Help Line] [Back To Kitchen Basics]
[Food and Kitchen Tips & Hints] [Dandy Kitchen "Handies"]
[Recipe Searches & Favorite Sites]
GO HERE JUST TO HAVE FUN
[Food 'Toons & Giggles] [My King Arthur Odyssey] [For Hot Shoppes Fans] [About "Shaboom"]
[Sign Up For My Monthly Newsletter] [My Personal Home Page]
[E-Mail Me Anytime]